Wednesday, April 27th, 2011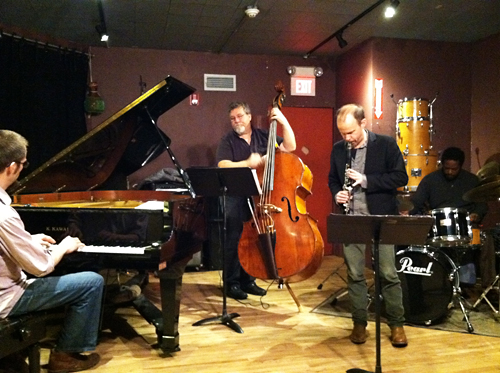 We are certainly living in a different world. Why did it take a heads up from friends in Sweden to know about a gig at a venue I frequent? Poor advertising? Certainly.  But it's also a story of how we share information these days. It's not just friends around the corner, but those in different parts of the globe that often provide us with timely missives about things they know about. As my wife says, we are truly living in a transnational village.
The concert? Jacob Anderskov on piano with the Americans Chris Speed on sax and clarinet, Michael Formanek on bass, and Gerald Cleaver on drums. They played pieces from last year's Agnostic Revelations, released on the ILK label. Squeezed in between a couple of other performers, they managed about 45 minutes of telepathy and interplay. Anderskov's somewhat angular, and at times economic, style pointed to his Scandinavian jazz roots though the group clearly has forged their own identity. If you didn't make the gig—and there weren't many us there—get the album, and look for his name next time he comes around.