Wednesday, January 5th, 2011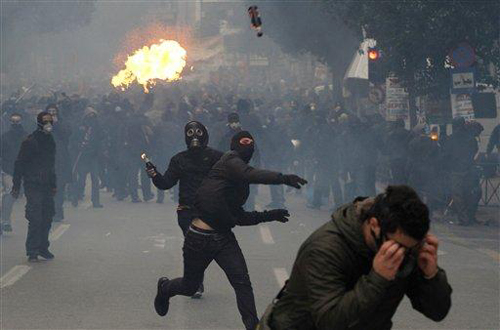 I know this image—I think I saw it over 20 years ago as part of a series of prints my father made before he died. This photograph, however, was taken on December 15, 2010, by AP photographer Alkis Konstantinidis in Athens during a violent labor protest over recent austerity measures taken by the government of Greece.
If you look carefully at the movement of the hooded men throwing the molotov cocktails in the photograph, you can see a similar approach in works below by my father and in this image. Is that because of a reality captured by both, or the result of decisions made by the image "makers" about how to animate the rectangle that is their stage? Maybe a little of both.
My father's series of paintings, drawings and prints were based on a dream of terrorists descending upon a football game at the University of Texas. At the time, the word "terrorist" was infrequently used. Even if we are not looking at "terrorists" in the AP photo—and who's to say—we are certainly living in a very different world now. What's interesting is that in both cases, your view of the "event"—and where you stand in relation to it—can swing 180 degrees depending upon what circumstances it is said to represent.
What I'd like to know is, how did my father generate images that were such an accurate portent of things to come?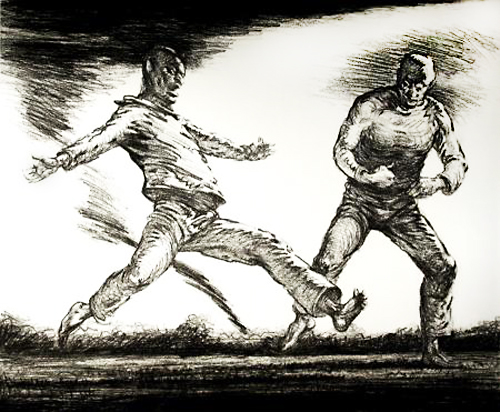 More information on Robert L. Levers, Jr.