Saturday, October 9th, 2010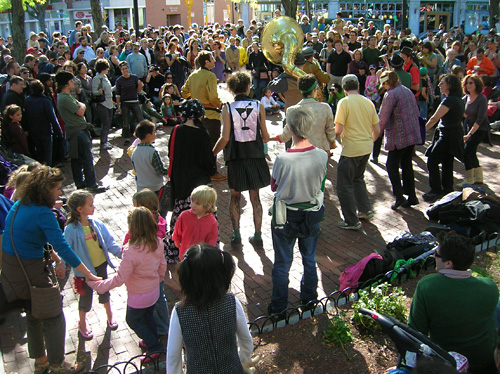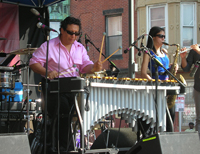 It's been a good fall so far for music in the Boston area, especially when you take into account the free concerts that have been presented outdoors. What's made that even sweeter is the weather we've had. A few weeks ago I went to the Berklee Beantown Jazz Festival. Okay, not all of it was jazz, but we were able to hear the likes of Greg Osby play some pretty straight-ahead stuff, Alex Acuña's disappointing new band, and Victor Mendoza—the Mexican vibraphone player who teaches at Berklee—with his tight new latin jazz group. They all fit the description.
This afternoon I went to HONK!, the annual festival of "activist street bands" held in Davis Square in Somerville. This is the fifth one they've held and the third I've attended. As the festival has increased in popularity, the distance bands are willing to travel to participate has also grown. What has emerged as well is a wider gap in ability. What all share, however, is a commitment to intrude on the usual. It is impossible to be in the presence of one of these bands and not feel moved to respond to a kind of instantaneous communal heartbeat. A quick reminder that one is alive!
Festival literature describes these bands as finding musical inspiration from many sources—"New Orleans second line brass bands, European Klezmer, Balkan and Romani music, Brazilian Afro Bloc and Frevo traditions, as well as the passion and spirit of Mardi Gras and Carnival." We heard all those, and more.
Other interests manifested themselves in many ways. As you can see from some of the photos, there was a pretty much do-it-yourself approach to costumes, even within the same band. Instrumentation was not limited to wind and percussion instruments—when was the last time you saw an electric guitar being played with the amp strapped to the player's back in a street band? Politics were liberal and more than that—the Leftist Marching band from Portsmouth delighted us with their very well played Charlie Haden/Carla Bley arrangement of El Pueblo Unido Jamás Será Vencido!
But politics had the last word at the Bread and Puppet Circus Band's performance. After a few songs, the Rotten Idea Theatre Company was introduced as part of the "show." It consisted of five people in giant masks and a young narrator who proceeded with some tired agitprop. A woman who appeared to be in her late 60s stopped the show with a yell: "Hey…Hey, that's really boring! I've seen that a million times!" She was absolutely right, but not kind, especially given the spirit of the day. The music resumed after the departure of the thespians, but it never really quite  found its footing again. Luckily, there were five other bands playing at the same time, so I took a stroll…