Tuesday, August 17th, 2010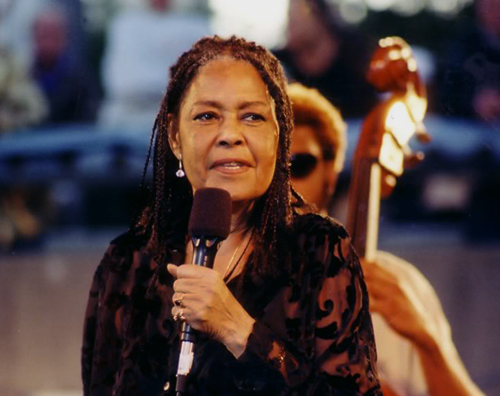 I'd like to call your attention to an era barely mentioned in any of the obituaries of the great singer songwriter Abbey Lincoln, a time when she literally found her voice. Even Wikipedia is silent on what she was doing between 1970 and 1990, but I know she was working hard, because I saw her perform in New York City five or six times in the 1980s. You may have heard the expression "command a room," but if you did not see Abbey Lincoln sing at the Village Vanguard in those years, you do not truly understood what that means.
As for recordings, this period begins with People in Me, an album recorded in 1973 but released in 1978 on Inner City Records. Recorded in Japan with Dave Liebman, Al Foster, James Mtume and some local musicians, this was her first album since 1961's Straight Ahead. People in Me represented her first somewhat mature steps as the artist we would come to know—wholly original poetic songs, a beautiful and fully confident voice, an approach that made no bones that she was the unquestionable "owner" of her current repertoire, and a rhythmic pulse she was unafraid to use in order to shape a song and push her fellow musicians into following her.
The next decade found her working with a range of musicians and releasing some of her most interesting recordings. Golden Lady, released on Inner City Records in 1981, features Archie Shepp and a number of compositions that would become standards in her own oeuvre: "Painted Lady," "Throw It Away" and "Caged Bird." This album also hints at her ability to identify material by others that she would make her own, like Duke Ellington's "Sophisticated Lady" and Stevie Wonder's "Golden Lady." That same year, Maestro, an album by Cedar Walton on Muse Records, featured her vocals—her version of "In a Sentimental Mood" is so convincing that you'd swear it was written for her.
In 1984, she released the album Talking to the Sun, issued on the German label Enja. Here she was totally in charge, picking young New York-based musicians as her band and doing the arrangements. As she says in the liner notes: "Everything I sing about deals with some kind of freedom. Mostly it's freedom of the spirit." I'm guessing that's what led her to record two live discs of her singing songs associated with Billie Holiday in the late 80s. Though occasionally marred by the recording and some of the playing, it is still a joy to hear Lincoln's takes on some of these classics.
This decade laid the groundwork for the successful recordings released later by a newly invigorated Verve Records. Though popular, some of these albums do not feel as though she were always in charge. That is not meant to knock some of the really terrific recordings issued after the decade in question—You Gotta Pay the Band with Stan Getz is required listening—but these would not have existed without her "lost" era. We've lost a real original, and that's what matters.